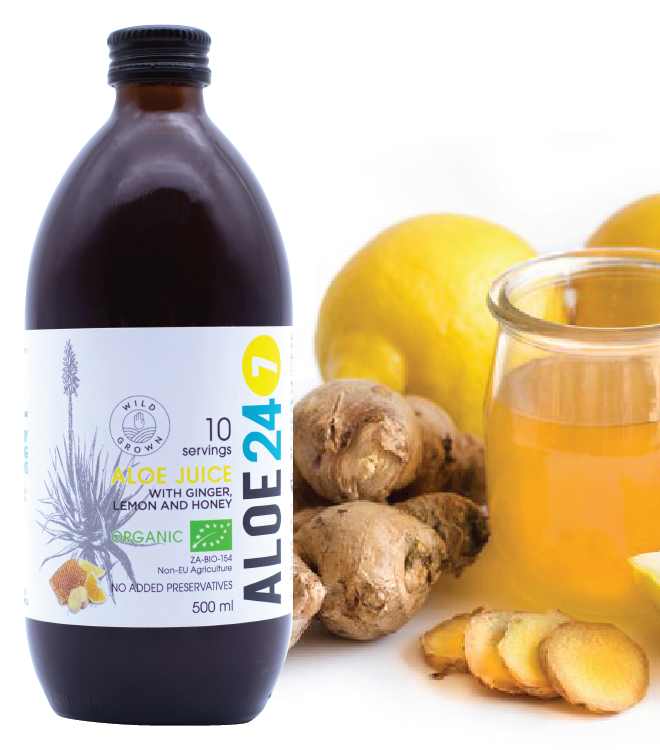 Aloe 24/7 Juice - Ginger, Honey Lemon
Totally Wild's Aloe 24/7 now with Organic Honey, Ginger and Lemon offers a delicious new taste to this product as well as added nutritional benefits!
Honey has a rich history that goes as far back as ancient Rome, Egypt and Greece and is recognized as a powerful antimicrobial, anti-inflammatory, anti-oxidant and wound-healer. It is also very nutritious.
Ginger has been used for its medicinal properties for centuries among many cultures to reduce inflammation and treat digestive conditions. The phenolic compounds in ginger are known to help relieve gastrointestinal irritation and for relieving digestive problems such as nausea, loss of appetite, motion sickness and pain.
Many studies have suggested that increasing consumption of plant foods like ginger decreases the risk of obesity, diabetes and heart disease while promoting increased energy.
Lemon lowers the pH in the body and is filled with vitamin C which assists in strengthening the immune system
Size/Weight
500ml
Certifications
HACCP, FSSC22000, Certified Organic Ecocert SA (EU & USDA), Kosher, Halaal
Shelf Life
14 months from production date