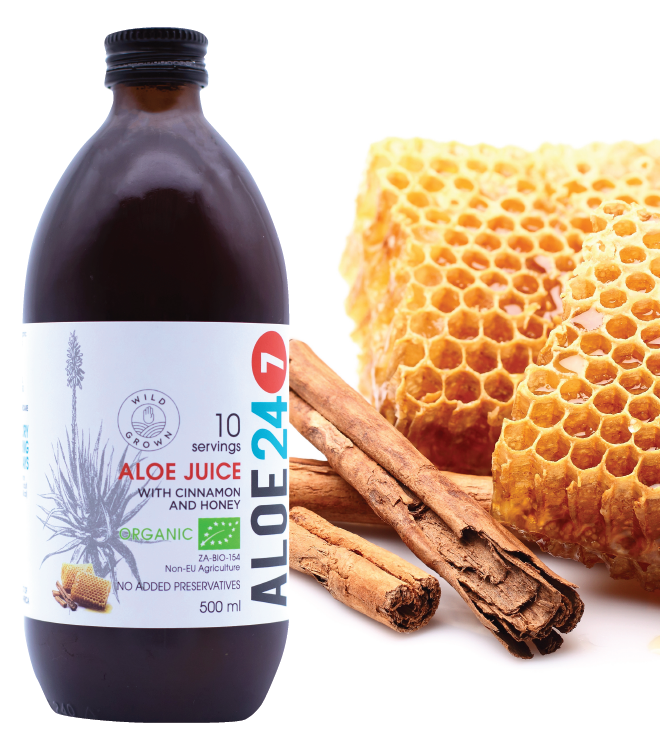 Aloe 24/7 Juice - Cinnamon and Honey
Totally Wild's Aloe 24/7 now with Organic Honey and Cinnamon offers a delicious new taste to this product as well as added nutritional benefits!
Honey has a rich history that goes as far back as ancient Rome, Egypt and Greece and is recognized as a powerful antimicrobial, anti-inflammatory, anti-oxidant and wound-healer. It is also very nutritious.
Cinnamon has been used medicinally by Chinese and Ayurvedic practitioners for over 2,000 years to promote optimal health. Alone, cinnamon and honey are both very potent medicinal foods that control inflammation, fight free radicals and benefit the immune system. Mixing honey and cinnamon boosts their antimicrobial and anti-inflammatory properties, and combined with aloe, they form a dynamic combination.
By drinking a small glass of Aloe 24/7 juice once or twice a day, the natural sugars in the aloe help to ensure efficient cell-to-cell communication in the body, a function which is vital to good health and well-being. Aloe 24/7 is a great, every-day dietary supplement which assists in building the immune system and in improving general body function.
Size/Weight
500ml
Certifications
HACCP, FSSC22000, Certified Organic Ecocert SA (EU & USDA), Kosher, Halaal
Shelf Life
14 months from production date